Wedding Season is here! Bridal Skincare Tips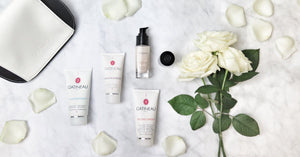 With Prince Harry and Meghan Markle's Wedding imminent, it is the perfect time to talk about how best to treat our skin this wedding season! There is so much energy that goes into planning a wedding that it is easy to lose sight of the most important aspects of your special day.  You are marrying the love of your life and it should be the day when you skip down the aisle feeling your most beautiful!
Sadly, with so much to plan, stress factors can be really high for months before the big day and with the skin being the largest most protective organ of our body it can reveal all the negative effects of this built-up anxiety.
Stress increases the hormone cortisol, which damages skin's ability to hold on to water and this causes a dull lack lustre complexion. Cortisol also triggers an elevation in blood sugar which, via a process called glycation, damages the protein fibres that keep skin smooth and firm (collagen and elastin). Constant muscle tension (or frowning) also leads to permanent wrinkling. The increased blood flow that occurs when you're under stress may cause capillaries to expand which can lead to broken capillaries, flushing and even rosacea.  Stress can also induce lack of sleep causing a build-up of fluid especially around the eyes which leads to puffiness.
Even as I write this I can feel my stress levels rising at the very thought of the detrimental effects stress can have on the skin! Finding that 'Bridal Zen' will be an invaluable tool for all brides to be out there and Gatineau's Bridal Facial Collection is the perfect kit to use in conjunction with these essential tips for 'blooming' bridal skin!
Double Cleansing
Adopt the double cleansing regime into your daily routine. It was originally introduced by Jeanne Gatineau back in 1932 and was a "salon secret" designed to ensure maximum efficacy of the facial and ensure immediate and visible results. Perform two consecutive facial cleanses using two different types of cleansing products and it will be like giving the skin a 'blank canvas' to work on. Make-up is completely dissolved, whilst pores are stripped of impurities and toxins. Skin looks and feels completely refreshed and super clean.
Treat the skin to some Pro-biotics
The key to a healthy skin is a healthy ecosystem – one that has a balanced content of beneficial bacteria on the surface of the skin which plays an essential role in preventing undesirable bacteria from developing. Using Pro-biotics in skincare is a fairly new approach and pro-biotics or 'good bacteria' in skincare formulas helps to rebalance the skin's ecosystem. The potential of these helpful bacteria can help to treat many skin problems like acne and skin sensitivity as well as helping to slow down premature ageing. By using Gatineau's Mélatogénine Youth Activating Beauty Serum morning and evening bursting  with power-packed Pro-biotics, it forms a veil of protection over the skin and re-balances the micro-flora offering maximum protection.
Exfoliation
To boost your pre-ceremony glow, ensure you exfoliate twice a week with a non-granular enzymatic peel. These types of peels are the most effective way to remove layers of dead skin cells whilst optimizing hydration levels and boosting radiance. Our Peeling Expert Pro-radiance Anti-aging Gommage is a menthol-infused cream that buffs away dead skin cells and impurities from the epidermis, revealing a fresh, glowing complexion; use two to three times per week for maximum absorption of other products and for an instant improvement in skin tone and texture!
Keep hydrated
No matter what your skin type is, it will always crave water. Water is vital to keep skin balanced and will help prevent premature ageing.  Drinking plenty of water will help but also snacking on naturally hydrating foods like watermelon, cucumber, celery, tomato and grapefruit works too. Gatineau's AquaMemory High Hydration Cream Mask is designed to instantly replenish moisture levels in dehydrated skin with Osmaporine™ Technology. Hydrated skin is key to a supple and youthful complexion on your big day!
Eyes
The skin around the eyes is very delicate and with a sluggish circulation, sleepless nights and anxiety tears you can be left with puffiness, dark circles and wrinkly crow's feet.  Always use a separate eye product for the eye contour area and only use your ring fingers to apply it, pressing the product in rather than rubbing.  This will help increase the circulation and disperse toxins to alleviate eye bags. Gatineau's Collagene Expert Eye Compresses can be left in the fridge and then applied under the eyes as an SOS to cool, soothe and revitalise the skin. 
Exercise
Whether it's hitting the gym, slamming a punch bag or going for a long walk, it has been proven that when you exercise, your body releases chemicals called endorphins and these will trigger a positive feeling in the body. By exercise 3 or 4 times a week you can decrease tension, boost circulation, and keep any inflammations in check.
Scents
Scents have been scientifically proven to have a really strong trigger for our brain. Find your own calming scent that allows you to visualise a happy place. Burn your candle whilst you enjoy long baths and grab a handbag size roller you can dot on pulse points too on the wrist and behind the ear too.
So Wedding Season is here, and as a bride the most important thing is to have fun and don't sweat the finer points! Laughing does wonders for the spirit and endorphins are great to help create a glowing bride!
Lucy x