Introducing...Floracil Plus™!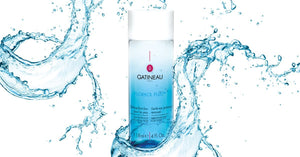 Floracil Plus™
 is our new and improved eye make-up remover and will launch globally and exclusive to QVC in a Today's Special Value Collection on June 28th!
What happened to the original Floracil?
We have reformulated the original Floracil to create a brand new bi-phase formulation, Floracil Plus. Modern make-up is longer wearing with richer pigments and more sophisticated formulas, so we needed to create a new modern formulation that would match these developments whilst still being gentle and nourishing for the skin and suitable for sensitive eyes.
Hydrating for the eye area, fragrance-free and suitable for sensitive skin, this blend of powerful Hyaluronic Acid, Vitamin E and Aloe Vera is a moisturising, refreshing and soothing eye treatment that gently and effectively removes all traces of makeup.
Floracil Plus
 is dermatologically and ophthalmologically tested and is suitable for contact lens wearers.
What does bi-phase mean and what are the benefits?
A bi-phase formula is made up of 2 separate phases: aqueous and oily. This means that when the bottle is still, you will see a separation between the two layers, a nourishing oil layer and a vitamin water layer. When you shake the bottle before use, the phases mix to give you an effective makeup remover with a light hydrating touch as the ultra-fine cleansing oil phase gently dissolves make up, reduces pulling, and hydrates the eye area, without leaving a heavy, oily residue.
How effective is Floracil Plus in removing make up?
Due to its bi-phase technology, Floracil Plus removes even the toughest eye makeup whilst being gentle enough for sensitive skin. The cooling liquid soothes and comforts the eye area and reduces puffiness whilst it works to remove even water-proof make-up. At the same time, silky oil works to dissolve your makeup and nourish your lashes, moisturising the skin around the delicate eye area so your makeup easily glides away without rubbing, pulling or stripping the skin. Thanks to its light formulation,
Floracil Plus
 will not leave a heavy, oily residue around the eye.
When should I use Floracil Plus?
Use 
Floracil Plus
 as the first step in your cleansing routine to gently and effectively remove all traces of eye makeup. As well as quickly dissolving makeup, it doubles up as a nourishing eye treatment, soothing and hydrating the eye contour.
I have dry/sensitive skin and eyes, can I use Floracil Plus?
Floracil Plus is ideal for those with dry, sensitive skin as its light, nourishing oil hydrates the skin as it gently removes makeup without stripping and without the need to rub the delicate eye area. 
Floracil Plus
 is also fragrance free, dermatologically and ophthalmologically tested and is suitable for contact lens wearers, making it suitable for those with sensitive eyes.
How do I use Floracil Plus?
Always remember to shake the bottle immediately before use. Dampen two cotton pads and pour Floracil Plus onto each pad. Hold the cotton pads over each eye for around twenty seconds to let the formula dissolve eye makeup. Gently wipe the cotton pad over your eye in a downward motion to remove your eye makeup. Reverse the cotton pad to remove any excess makeup around the eye contour. For an extra refreshing and de-puffing effect, store your Floracil Plus in the fridge.