Collagene Expert Ultimate Smoothing Serum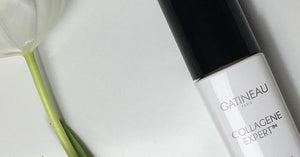 One of the many products that I love to talk about as I adore it is the 
Collagene Expert Ultimate Smoothing Serum
. This is my go to summer serum. I am now nearly 34 and my skin is very oily, but I am very aware of fine lines appearing on my skin and I also suffer with dehydration! (I am my own worst enemy and find I never quite hit my water quota, something that I always encourage clients to do!)
What do you love most about the Collagene Expert Serum?
This serum ticks all the boxes for me, it's a super lightweight formula that doesn't feel heavy or too rich for my oily skin. It absorbs instantly and I instantly see my dehydration lines melting away. It's such a fantastic one for summer as UV rays damage our collagen levels, so this serum containing a Triple Collagen Complex helps to keep my levels normal to fight off premature ageing and reduces the appearance of fine lines and wrinkles.
Why is it important to use serums?
Serums have a smaller molecular structure than creams, so they are able to penetrate deeper in to the skin. I always advise people to add in a serum to their routine as it's such a quick fix - and our serums are triple the strength of a moisturiser! Your skin is getting so much goodness in one little pump.
What are the stand out ingredients in this serum?
Marine Elastin is one of the best sources of elastin for the skin and provides intensive anti-ageing benefits as well as deep hydration. Sea Kelp Extract comes from a brown sea algae (doesn't sound very glamorous I know!) that is extremely resilient due to the conditions it lives in – we use a concentrated extract to protect the amino acids and the cell membranes of the skin, as well as shield from free radical damage. This powerful duo strengthens skin cells causing the epidermis to tighten and restore elasticity.
This 
serum
 is fantastic for the warmer weather or people who are looking for a lightweight, hydrating anti-ageing serum. We also like to recommend this to people who have had lots of exposure to UV rays, so any sunbed users or clients that holiday regularly will really benefit from this product, making it the perfect summer Product!
Sally x