Description
Our iconic Original Floracil Gentle Eye Make-up Remover gently removes the remnants of the day and all traces of eye make-up. This wonderfully cooling and refreshing non-oily, non-drying and non-irritating liquid is highly effective, quickly dissolving and removing even the most stubborn of make-up. Also suitable for lash extension users. Floracil is extremely gentle with the same pH as tears, which means no stinging, irritation or puffiness. Dermatologist tested.
HOW TO APPLY
Step 1 - Dampen cotton pads with Floracil Eye Make-up Remover and place over each eye.
Step 2 - Press and hold to allow make-up to dissolve.
Step 3 - Gently sweep the cotton pad down the lashes and wipe away all traces of make-up and impurities.
Step 4 - Eyes are left cleansed and refreshed.
Expert Advice
Press and hold on a cotton pad for 20 seconds before moving downward
Ask the expert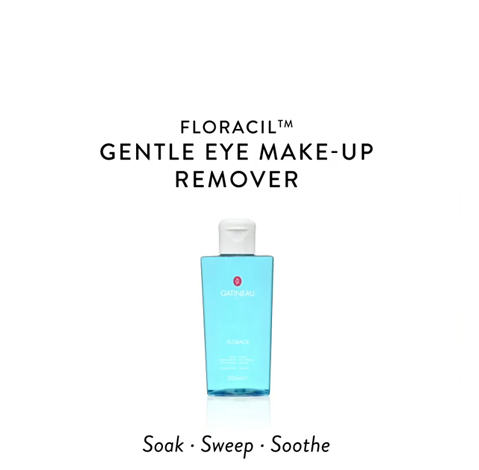 Watch Video
Why do I need an eye makeup remover?
The eye contour skin is 10 times thinner than skin on the rest of the face hence the need for its own particular products
Can I use this with Eyelash extensions?
Yes, this product is gentle and oil free
Does Gatineau Floracil Original Gentle Eye Make-up Remover leave any residue?
No but we recommend washing your face always after using Floracil
Standard Delivery – Free (Minimum spend £30) 3-7 working days.

Standard Delivery - £2.95 (Under £30 spend) 3-7 working days.
Please note we only deliver within the United Kingdom and Northern Ireland. We do not ship to the Republic of Ireland.
for free next working day delivery when you spend over £75
10% Off Your First Order
CODE: GATINEAUWELCOME10 Apply code to your bag before checkout.